It's a field trip in your classroom!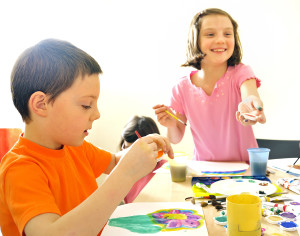 Barbara's Crafty Tales offers on-site 1 to 1.5 hour creative presentations for Kindergarten through 5th Grade classes. All of our stories are appropriate for all girl, all boy, or mixed classroom settings.
Programs can be adjusted for your curriculum. We've provided presentations for public, private, and parochial elementary school classes in Bullitt, Franklin, Henry, Jefferson, Nelson, Oldham, Shelby, and Spencer Counties in Kentucky as well as Clark, Harrison, and Scott Counties in Indiana.
How our programs work
Children sit in a large circle, either in the classroom or another site in the school.
The story's costumes and props are supplied to the children who will portray the characters. All costumes are worn over clothing.
Each child makes an individual story-based art project.
Depending on the program, an additional activity is added.
We Provide:
Program leader
Activities, including unique costumes and props
Tables, if needed
Washable, non-toxic craft materials
Floor coverings
Smocks/T-shirts to wear over clothing
Plastic bags in which to bring the projects home
Cost: Class rates are based on the number of students having programs at your school. Please contact us for pricing.
Program Themes
Kindergarten
"The Biggest Most Beautiful Fish" story is narrated, with parts for 8 students: they are the child who loves to fish, a mother, a father, the Fish, a sailor, a farmer, and zookeeper, and a "fish doctor". A child finally catches the fish of his/her dreams, brings it home, and keeps it in the bathtub. The fish becomes ill and even the fish doctor can't help it. We guide the class toward deciding to return the fish to its natural habitat, where the child can still visit it.Next, the children are given some very interesting and easy to remember dolphin facts. (The first one is, that a dolphin is not a fish!) Then, after putting on their smocks, the children create the dolphin project. Project decorations may change as new ones become available.
1st & 2nd Grade – We offer 3 programs for both of these grades:
The Ocean program story is "The Good Child" and features The Child, a mother, a brother, an old woman, a pirate, a sea horse, a lobster and a lighthouse. Through a series of events, the students learn the lesson that when you help someone, they'll help you in return. This is followed by some fascinating sea horse facts, putting on smocks, and then creating a sea horse project. Ocean decorations may change as new ones become available.
The Immigration/Language program begins with the children being greeted in first in Russian, followed by Greek and German. It is then explained that this is how one might feel as a new arrival in a foreign country, if you didn't speak the native language. It is explained that, even though nice things were said, you might still feel uncomfortable, since you didn't understand. Reasons for moving to another country are mentioned, highlighting the many opportunities available in America. Then, the students are taught 7 words and expressions in Russian. They'll also receive a paper with the English word and Russian pronunciation to help them remember what they've learned.Then we narrate an entertaining Russian fable called "The Little Brown Horse". The characters are a farm girl, her sister, the Horse, a tsarina (empress), a boyar (nobleman), a horse groom, and a prince. The evil tsarina assigns the farm girl impossible tasks, but with the help of the Horse, she is successful and there is a happy ending. The children then put on the smocks and create the "scene" from the story, while continuing to practice their newly-learned Russian words.
We begin our Native American presentation with a Native-style story called "The Day the Animals Lost Their True Colors". Like many Native tales, it explains how something in nature came to be. In this case, 6 desert animals (Coyote, Pack Rat, Javelina, Road Runner, Jack Rabbit and Tortoise) are still in their original colors (green, red, orange, yellow, purple and blue) and disagree which color is the best. While they're arguing, they fail to notice a white hawk above them, who swoops down and steals the colors that are reflected in a puddle. By doing this, he has stolen the bright colors from their fur, feathers and shell. As Hawk flies off, the stolen colors trail behind him, creating the first rainbow. At the same time, the animals' colors fade to the duller shades they are now.After the story, the children put on their smocks and will enjoy seeing the green coyote, purple jack rabbit (or sometimes a blue tortoise) and rainbow on their art project. Our last activity is a display of Native American-made artifacts. First, it will be explained which tribes and regions the items are from, the materials used to create them, and their uses. Then, the students come up to view the collection, as well as handle the items put on a "touch table". Consider it a traveling museum, but with items the children are encouraged to touch!
3rd Grade and Up
An hour-long program featuring Native American-made artifacts is available. Over 40 items from tribes across the country are exhibited, and their materials and uses are described in detail. Artifacts include baskets, regalia, pottery, katsinas, an elk skin drum, and a cradleboard. Several of the artifacts show the influence of contact with Europeans. After the lecture, the students are invited to view the items more closely, as well as enjoy a "touch table" opportunity.