You pick the place – we bring the fun!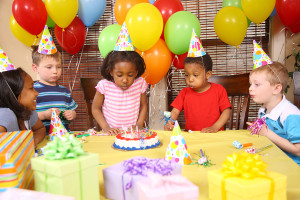 We offer birthday party programs for children turning 5 years old and up. Each presentation revolves around your child's choice from the themes available. Activities include storytelling, art projects, and more!
Just tell us the range of ages in your group, and we'll help you select the story that would be the most entertaining for the birthday child and guests.
Our activities are ideal for children to enjoy a stress-free and creative experience. All of our stories are adaptable for all girls, all boys, or mixed groups.
Need a location for your party? Ask us for site suggestions!
How our programs work
Children perform a narrated story while sitting in a large circle.
Costumes and props appropriate to the story are supplied to the children who will portray characters in our unique stories. All costumes are worn over clothing.
The story can be adapted to include words and phrases from Spanish, French, German, Italian, Russian and Greek.
Each child makes an individual art project to take home.
We Provide:
Party Leader
Name tags
A giant-sized "birthday card" for the guests to sign and decorate
Activities, including unique costumes and props
Tables, if needed
Painter's cloths for floors and rugs
Non-toxic craft materials
Smocks/T-shirts to wear over clothing
You Provide:
Children (play clothes are suggested) and access to water
An open area for the storytelling/skit
Refreshments, paper goods, decorations, goody/party/treat bags, etc.
Stories
Please contact us to hear about the available stories and we'll help you decide which will be the most entertaining for your child and guests!
Project Themes include:

Sea Creatures (fish, dolphins, sea horses, etc.)
Mermaids
Pirate Ships
Horses
For Ages: turning 5 years old and up
How Long: approximately 1.5 hours
When: 7 days a week. Please contact us for availability
Where: You pick the place, and we bring the fun! Our on-site presentations are perfect for your home, clubhouse, or any location of your choosing in Louisville and the surrounding counties.
Cost:
$9 per child (including your child and any siblings who will participate in the craft).
Minimum charge of $100.
For 16 children or more, please contact us for pricing.