"Miss Barbara" Hodge has brought programs to public, private and parochial elementary and preschools in Louisville (Jefferson County) and 10 surrounding counties since 2004. She has a BA from the University of Connecticut, where she studied foreign languages.
Prior to moving to Louisville, she worked for 5 years at a non-profit maritime educational organization in Connecticut. This group provided ocean programs for elementary school children, focusing on ocean creatures both local and world-wide.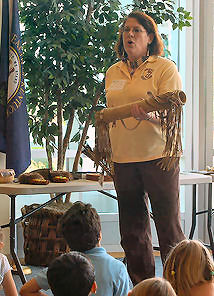 In addition to these ocean programs, new stories, art projects and programs were created when she opened Barbara's Crafty Tales. Her love of languages plays a role in the Russian horse fable program. Greatly interested in Native American cultures for years, her collection of artifacts is now an important part of the Native American program.
When Barbara is not working with your children, she enjoys spending time talking with her two daughters, looking for new stories, and traveling with her husband.